Arm wrestling is often used as a trial of strength. However, while physical strength does matter, most people have no idea how to utilize it effectively, especially in this context. Improving your technique by adhering to the following guidelines can give you an advantage in arm wrestling, and allow you to beat significantly stronger opponents.
Note that the more of these tips you follow, the greater your advantage will be. However, even following a few of them can be highly beneficial.
Body position
If you're competing with your right arm, stand with the right foot forward (and vice versa).
Stand close to the table, so that your arm is near your body.
Keep your core muscles tight.
Hand position
Try to rotate your hand over your opponent's, so that your forearm is in prone position.
Twist your wrist towards your body. (Together with the previous tip, this is known as a toproll).
Curl your thumb and get it underneath your own fingers for a better grip.
Climb "up" with your hand over the opponent's hand by moving your fingers forward and re-gripping.
Keep a tight grip throughout.
Overall technique
Start tensing your muscles before the contest starts (but don't cheat by starting to apply pressure on your opponent early).
Arm wrestling is about pulling, not pushing. Make a pulling motion with your hand, and move the opponent's hand away from them and towards you.
Apply force with your back and shoulders, not just your arm muscles (again, using a pulling motion).
Rotate your shoulder and body in the direction you want your opponent's arm to go.
The mental aspect
If the two of you are closely matched, the winner could be the one who hangs on longer, and who doesn't give up. So, if you feel you're getting tired, keep in mind that your opponent is likely feeling the same. Appear confident for as long as possible, and try to look like you can keep going all day.
The dangers of arm wrestling (the 'break arm' position)
Arm wrestling can lead to all sorts of injuries, the most common being a humeral fracture, which essentially means that the bone in your upper arm snaps in half.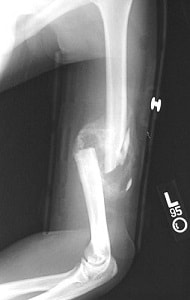 However, you can reduce the risk of injury by avoiding the 'break arm' position. To do so, keep your arm perpendicular to your chest, and your shoulder in line with your arm. You should be able to look directly at your hand as it moves.
In the following picture, the person on the left is in the dangerous break arm position. Conversely, the person on the right is at the appropriate position, which protects his arm and minimizes the risk of injury. In fact, in some professional matches, the referees might stop the match if one of the contestants is too far from the appropriate position, and too close to the break arm position.
Summary and conclusions
Using proper technique can give you an advantage in arm wrestling.
Try to keep your hand near your body, and pull your opponent's hand away from him.
Get your hand on top of your opponent's hand, and curl it towards yourself.
Pull not only with your hand, but also using your back muscles.
To reduce the risk of injury while arm wrestling, avoid the break arm position by keeping your arm perpendicular to your body and in line with your shoulder.
---